10.Feb.20
Farnham, UK / Phoenix, AZ, USA | 10 February, 2020 – Local Motors, a digital manufacturer of mobility products, has started production of the Olli 2.0, the second generation of its 3D-printed, electric, autonomous passenger shuttle. ProteanDrive in-wheel motors will drive each of Olli's four wheels, providing highly efficient, quiet and refined electric propulsion.
Protean Electric is an automotive technology innovator and a world-leading developer of in-wheel motors (IWMs). The development and supply agreement with Local Motors – which started in 2018 with the first version Olli – represents a major success story for the firm.
Olli is one of the first autonomous vehicle applications for the ProteanDrive technology and marks a significant step for in-wheel motors. Protean Electric has proved its technology through extensive testing, demonstrating that ProteanDrive is also ready for volume application in light commercial vehicles, modern last-mile transportation solutions, and passenger vehicles.
Compared to conventional electrified powertrain formats, ProteanDrive offers greater powertrain efficiency, greater flexibility in vehicle design and allows solutions impossible to achieve with an e-axle. The highly integrated patented design includes all the core technology of an electric driveline within a single unit, delivering optimised efficiency, refinement and safety.
Local Motors by LM Industries, founded in 2007, has pioneered a new model of low-volume vehicle manufacturing, using open-source designs, local microfactories and cutting-edge 3D-printing technology to produce mobility products like Olli. Olli is the world's first co-created, self-driving electric vehicle, conceived as the answer to a sustainable, accessible transportation solution for all. It is a viable and sustainable transportation option for cities, companies, hospitals, campuses, stadiums, entertainment districts and more.
Protean Electric and Local Motors have been working together for 3 years to evaluate and integrate the ProteanDrive Pd18 in-wheel motor into Olli. Olli is currently deployed at 11 sites across the US, Europe and the Middle East. Customers include city administrations, universities, start-up mobility providers and public transit systems operators.
"We're always focused on improving the technology and passenger experience within Olli and the selection of ProteanDrive in-wheel motors has helped us achieve a first-rate experience," says Alex Fiechter, VP of Research and Development at Local Motors. "They are smooth and quiet. The flexibility afforded by an in-wheel drive with integrated electronics allows for our vehicle floor pan to be maximized for our users, not just for mounting and hiding hardware."
"Olli is spearheading one of the most exciting arenas for next-generation urban mobility," says Ben Boycott, Chief Commercial Officer at Protean Electric. "In-wheel motors are the natural choice for autonomous vehicles, and the ProteanDrive is the most advanced IWM design available, which means our solution is lighter and more compact, giving us – and our clients – a clear competitive advantage."
Protean Electric media contact:
Saffron Johnson, PFPR Communications
+44 (0)1622 766510
+44 (0)7515 060527
Local Motors media contact:
LaunchSquad for Local Motors
lmi@launchsquad.com
+1 (415) 625-8555
About Protean Electric
Protean Electric is an automotive technology innovator, and a world-leading developer of in-wheel motors including ProteanDrive, a fully integrated in-wheel drive solution. Protean Electric's technology is strategically positioned to play a major role in the hybrid, electric vehicle and future mobility market by offering a combination of packaging advantages, new vehicle design opportunities, performance benefits and earnings improvements. Protean Electric has 160 patents across 75 patent families and maintains operations in the United Kingdom, China and the USA. It is an independently run subsidiary of National Electric Vehicle Sweden (NEVS) which in turn is part of Evergrande Health's 'New Energy Vehicle' Group.
About Local Motors
Local Motors by LM Industries Group Inc. is a ground mobility company focused on shaping the future for the better. Founded in 2007 with a belief in open collaboration and co-creation, Local Motors began low volume vehicle manufacturing of open-source designs using multiple microfactories. Since inception, Local Motors has debuted no less than three world firsts; the world's first co-created vehicle, the world's first 3D-printed car and the world's first co-created, self-driving, electric vehicle, Olli. We believe that Olli is the answer to a sustainable, accessible transportation solution for all.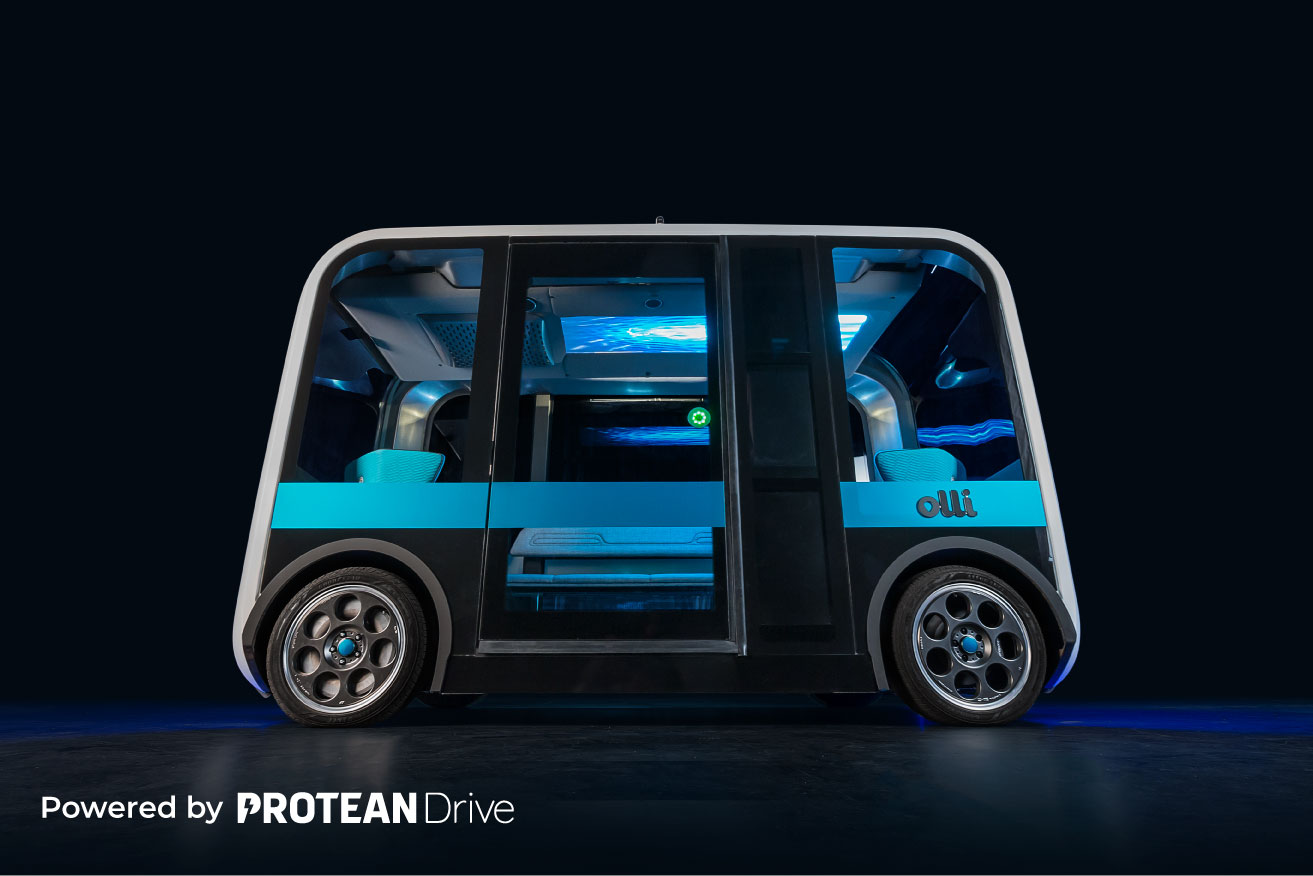 Protean Electric appoints Andrew Whitehead as new CEO to drive continued success in automotive technology market
200th patent demonstrates approaching industrialization with continuous innovation