04.Apr.17
Farnham, U.K. & Zhuji Township, China — 5th Apr 2017 – Global leader of in-wheel motor systems, Protean Electric, and Zhejiang VIE Science & Technology Co., Ltd. (VIE) today announced a partnership to develop a 16" version of the ProteanDRIVE® In-Wheel Motor.
The ProteanDRIVE® 16 (PD16) is based on technology successfully implemented and now being delivered to OEM customers in Protean's PD18 product, and strengthens the Company's ProteanDRIVE® product suite. PD16 provides the power and torque required for plug-in hybrid and electric vehicles in the A to D segment, utilizing scalable and patented ProteanDRIVE® architecture. PD16 offers industry-leading performance across all key measures:
Integrated Motor and Inverter to fit inside a regular 16" wheel
Peak Torque/Power 800Nm/40kW
Continuous Torque/Power 450Nm/26kW
Added wheel mass 27kg
Conventional wheel bearing and friction brake integration
"Protean's in-wheel drive technology is the most versatile, energy efficient and cost- effective method of electrification for the automotive industry as it looks to meet current and future challenges," said KY Chan, CEO of Protean Electric. "Working with VIE it became clear very quickly we had a like-minded, ambitious and visionary partner. Leveraging VIE's success as an automotive Tier 1, this partnership expands the reach of ProteanDRIVE® in the new energy vehicle market".
Leal Jiang Chen, President of VIE Group, added, "The automotive industry faces real challenges as it manages technological change. As a strategic investor and now JV partner, we are glad to support Protean's leadership in this time of industry change. Our multi-facet partnership in financing, manufacturing, sourcing, and market access creates new opportunities in the NEV market. Together, we will enjoy great mutual success."
The partnership, being implemented through a Zhejiang based joint venture, capitalizes on Protean's leading position in the In-Wheel Motor (IWM) category and maximizes VIE's capabilities as a high-volume manufacturer. The JV will manufacture and distribute PD16 in China, and supply to Protean for its international customers.
As more countries commit to electric mobility and consumers choose electric vehicles, benefits offered by IWMs are set to see the technology secure significant share of the growing electric drive market.
From left to right: KwokYin Chan, CEO of Protean Electric; Leal Jiang Chen, President of VIE Group with a PD16 prototype
About Protean and the ProteanDRIVE® In-wheel Electric-drive Solution
Protean Electric is a leading clean technology company that designs, develops and manufactures ProteanDRIVE® in-wheel motors, a fully integrated in-wheel drive solution. Protean Electric's technology is strategically positioned to play a major role in the hybrid and electric vehicle market by offering a combination of packaging advantages, new vehicle design opportunities, performance benefits and cost savings.
Using a scalable and patented sub-motor architecture, the current PD18 product, designed to fit inside an 18" wheel rim, provides the power and torque required to propel hybrid and electric vehicles from C-segment all the way to light commercial categories.
Protean maintains Operations in the United Kingdom, Shanghai, China and the United States, and a manufacturing plant at Tianjin, China. For more information, visit www.proteanelectric.com
About VIE:
VIE (SZSE: 002590) is a leading automotive parts supplier in R&D, manufacturing and sales of automotive chassis control system for both passenger and commercial vehicle. VIE products include the front and rear suspension system, vehicle electronics control system, pneumatic and hydraulic brake systems, clutch operating system and engineering plastic parts. VIE has recently broadened into wireless charging, ADAS and electric motor brakes. https://www.vie.com.cn/en
Media Contacts:
Jianlin Li, Secretary of the Board
lijl@vie.com.cn
+86 (575) 8765-8897
Jiaxin Liu, Marcom & Corporate Development Manager
media@proteanelectric.com
+86 (21) 6095-0542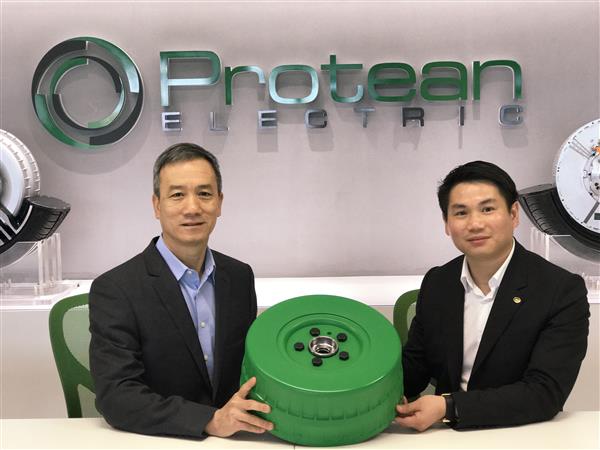 Protean Exhibiting at the Electric & Hybrid Europe 2017 in Germany
ProteanDrive Featured by MAHLE Powertrain