22.Mar.17
Protean Electric will be exhibiting its In-Wheel Motor products & technology at the Electric & Hybrid Technology Expo Europe in Sindelfingen from 4th – 6th April. Please come and visit us at Stand 527. We will be very pleased to discuss your potential application, and the benefits you can deliver to your customers.
Electric & Hybrid Technology Expo Europe
Electric & Hybrid Vehicle Technology Expo Europe is the leading trade fair for electric, hybrid and plugin hybrid vehicle technology, taking place 4-6 April 2017 in Sindelfingen, Stuttgart, Baden-Württemberg, Germany. The free-to-attend exhibition is a showcase of manufacturing and supply solutions along the supply chain for passenger, commercial and industrial vehicles, including electrical powertrains and components, battery management systems, materials and equipment.
Almost every major automotive OEM in Europe is developing hybrid and electric powertrain technology. E-mobility is no longer the exclusive pursuit of environmentalists and the money conscious – electric power is being used to increase performance as well as reduce our dependence on fossil fuels and make savings at the fuel pump.
Why Sindelfingen, Stuttgart?
Located in Baden-Württemberg, Electric & Hybrid Vehicle Technology Expo Europe is set in the automotive heartland of Germany. The region is responsible for the manufacture of over one million passenger vehicles annually, along with a strong commercial vehicle sector. It provides access to Europe's automotive decision makers: Porsche, Audi and Bosch all have a significant presence in the region, and Daimler/Mercedes have their largest production facility and technical center in Sindelfingen itself.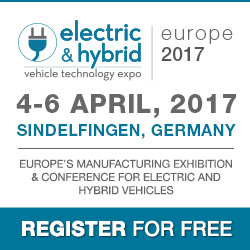 ConMet and Protean Electric join forces to develop Electric In-Wheel Drive System for the Commercial Vehicle Market
Protean Electric and Zhejiang VIE Science & Technology Jointly Announce the Development of PD16 to Broaden the In-Wheel Motor Market Access