31.Mar.22
LONDON, U.K. – March 31, 2022 – Protean Electric, the world leader of in-wheel motor (IWM) technology for passenger cars, light commercial vehicles and future transport solutions, announces that market adoption of its ProteanDrive solution will be further accelerated under the new partnership between Dongfeng Motor Corporation Technical Center ("DFM Technical Center") and Protean's joint venture in China, Wuxi Weifu Electric Drive Technology ("WFDT"). On 16 March, DFM Technical Center and WFDT announced a partnership that will combine DFM's expertise in distributed drive technology and Weifu's industrialised manufacturing capability to advance production applications of Dongfeng's Any-Drive technology, powered by ProteanDrive.
Mr. Andrew Whitehead, CEO of Protean Electric, said, "Protean has been working with Dongfeng Motor for many years and this partnership will accelerate the industrialisation of ProteanDrive into DFM vehicle programs. We will continue to focus on technological innovation and product research and development, which will support DFM in enhancing its own technology and broader market positioning with in-wheel motors."
Mr. Tan MingQiang, Director of DFM Technical Center, said, "Continuous technology innovation is the driving force behind the improvement of DFM's market proposition, and essential to growing the industry and market for in-wheel motor technology. DFM Technical Center is committed to the 'Technology Leap' agenda, improving the quality and value of China's domestic vehicle manufacturers. This collaboration will lead to breakthroughs in core technologies in key fields, and will both promote and realize in-wheel motor technology industrialisation."
Mr. Wang Xiaodong, Chairman of WFDT and WF Group, said: "In-wheel motors are an important technology in the transformation and development of WF Group, through our joint venture WFDT. WFDT is committed to the promotion of Protean's IWM technology and is very much looking forward to IWM achieving widespread market application as soon as possible.  We look forward to strengthening mutual understanding, deepening team communication and accelerating the market adoption of IWM through this project with DFM Technical Center."
Protean's successful partnerships with both DFM and Weifu Group span many years. Protean and DFM started to collaborate in 2016 and only last year, ProteanDrive successfully powered DFM's E70 4WD to complete winter testing.  In 2018, Weifu Group led Protean's Series E funding round to support the Industrialisation of ProteanDrive, which included the launch of the joint venture, WFDT, in China.
About Protean Electric
Protean Electric is an automotive technology innovator, and a world-leading developer of in-wheel motors including ProteanDrive, a fully integrated in-wheel drive solution. Protean Electric's technology is strategically positioned to play a major role in the hybrid, electric vehicle and future mobility market by offering a combination of packaging advantages, new vehicle design opportunities, performance benefits and earnings improvements. Globally Protean Electric has over 280 patents (and 80+ patents pending) across 75 patent families with operations in the United Kingdom, China and the USA. Protean Electric is part of the BEDEO Group, a leading technology company that brings smart, sustainable transportation solutions to companies across Europe as they transition on the path to zero emission mobility.
For more information, please visit: www.proteanelectric.com
About Dongfeng Motor Group Technical Center
Dongfeng Motor Technical Center is the central R&D department for new products of Dongfeng Motor Group Co. Ltd.,(DFM). It is China National Enterprise Technology Center, and recognized by the National Development and Reform Commission, the Ministry of Finance, the State Taxation Administration and the General Administration of Customs. DFM Technical Centre is a Class I institute of scientific research recognized by the Ministry of Science and Technology. It mainly undertakes the R&D of passenger cars, off-road vehicles, new-energy vehicles and powertrain products.
About Wuxi Weifu Electric Drive Technology
Wuxi Weifu Electric Drive Co.,Ltd is a joint venture between Wuxi Weifu High-Tech Group Co.,Ltd. and Protean Electric Limited (UK), which manufactures and sells In-wheel motor under the ProteanDrive brand for the Chinese market. With the mission of "Quality & Intelligent Drives a Better Life" of Weifu Group and the corporate goal of "Global Leader in In-wheel motor Technology" of Protean Electric, Weifu E-Drive upholds the quality and philosophy of Weifu and practices the strategic policy of internationalization and autonomy of Weifu Group. Weifu E-Drive is committed to providing high-performance and high-quality powertrain technology for electric vehicles, and boosting the development of automobile electrification with the development of our own technology, products and services.
Media Contacts
Sard Verbinnen & Co.
Julia Leeger / Claire Keyte
BEDEO-SVC@sardverb.com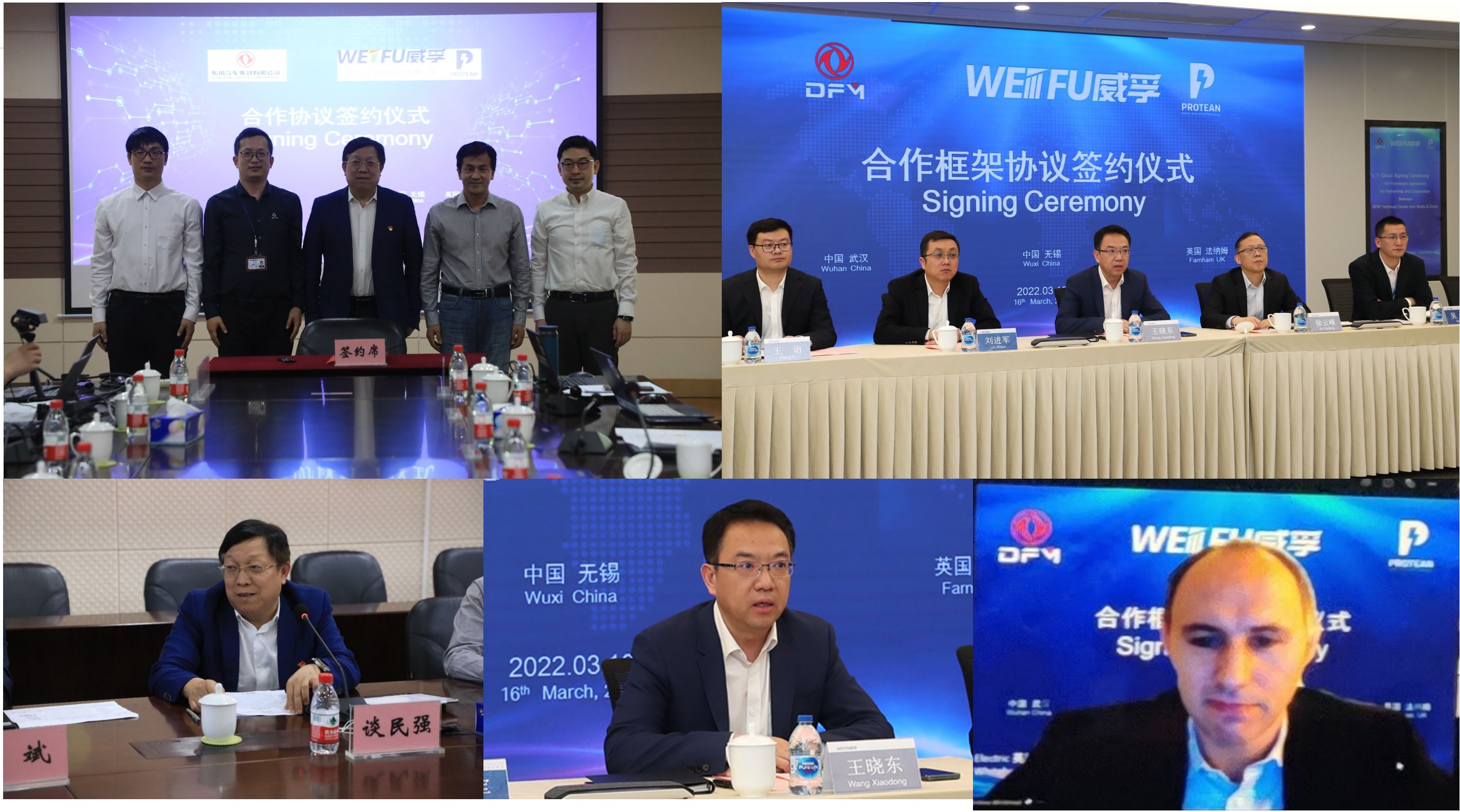 EV startups hunt for an edge as big automakers roll out vans and trucks
Protean Electric to Showcase In-Wheel Motor Technology at Vienna Motor Symposium