03.Jun.19
NEVS/Evergrande acquires British automotive technology company Protean Electric to speed roll-out of innovative propulsion technologies for next-generation electric and autonomous vehicles
The deal highlights significant potential of Protean Electric's in-wheel motors (IWMs) for electrified transportation
Protean Electric continues to operate as an independent business; will continue to develop future powertrain and mobility solutions to meet the needs of the market
The agreement is part of Evergrande's strategy to become a major player in the global EV market
National Electric Vehicle Sweden (NEVS), a subsidiary of Evergrande Health, has acquired the leading developer of in-wheel motor technology, Protean Electric.
The acquisition is part of Evergrande's strategy to become a major player in the global electric vehicle (EV) industry, and paves the way for NEVS to deploy Protean Electric's in-wheel electric drive technology, ProteanDrive, into its future products.
Protean Electric is an automotive technology innovator and world-leading developer of in-wheel motors (IWMs) and future propulsion solutions. Founded in 2008, Protean Electric has devoted over a million engineering man-hours to develop and validate its ProteanDrive in-wheel motor technology. The business has over 160 patents globally across electric motor and power electronics design, control and manufacturability, with another 150 patents pending, and ProteanDrive motors are subjected to industry-leading test criteria to ensure they meet existing automotive standards.
Compared to conventional electrified powertrains, the highly-integrated ProteanDrive in-wheel motors offer improved powertrain efficiency and greater flexibility in vehicle design. The patented high-torque density ProteanDrive technology combines a direct drive electric motor and power electronics which can be utilised on a range of platforms, including passenger cars, light commercial vehicles, urban mobility vehicles and autonomous pods.
Protean Electric will continue to operate as an independent business under the Evergrande umbrella, developing future powertrain and mobility solutions to meet the needs of the market. Formally, Protean Holdings will now be merged into Virtue Surge, a subsidiary of NEVS. The acquisition will provide additional resources and business opportunities for Protean Electric, giving the company access to an even broader pool of skills, knowledge and experience, as well as a sizeable customer in NEVS.
Stefan Tilk, CEO of NEVS says:
"Protean Electric is an exciting company with very competitive technologies. I am sure this acquisition will lead to many benefits for both NEVS and Protean Electric".
KY Chan, CEO of Protean Electric says:
"This exciting new agreement will enable Protean Electric to fulfil its global potential, and to do so more rapidly. This acquisition will aid Protean Electric in establishing a strategic advantage in the new energy and mobility markets and bring in new expertise. Evergrande is a well-established and ambitious business, determined to make a mark in the clean mobility arena across the world. We look forward to working closely with the Evergrande and NEVS teams to deploy our technologies."
NEVS is a Swedish electric vehicle manufacturer committed to shaping mobility to become more sustainable and smarter, designing and producing premium transportation solutions and electric vehicles.
In January 2019 Evergrande Health acquired a (51%) controlling stake in NEVS. In combining NEVS, Protean Electric and a number of other leading companies within the automotive area, Evergrande have formed a highly competent "New Energy Vehicle" group.
-Ends-
Notes to editors:
Media Contacts
Protean Electric
Saffron Johnson, PFPR Communications
+44 (0)1622 766510 / +44 (0)7515 060527 / saffron.johnson@pfpr.com
NEVS
Fredrik Fryklund, NEVS, Director Communications and Public Affairs
+520 850 00 / +46 73 966 6449 / Fredrik.fryklund@nevs.com
About Protean Electric
Protean Electric is a leading automotive technology company that designs, develops and manufactures propulsion and new energy technology solutions, including ProteanDrive, a fully integrated in-wheel drive solution. Protean Electric's technology is strategically positioned to play a major role in the hybrid, electric vehicle and future mobility market by offering a combination of packaging advantages, new vehicle design opportunities, performance benefits and earnings improvements.
For more information, please visit www.proteanelectric.com
About NEVS
Founded in 2012 after acquiring the assets of Saab Automobile AB, NEVS seeks to shape mobility for a more sustainable future through a global portfolio of fully electric premium vehicles, mobility solutions, and sustainable city offerings. NEVS' head office and main research and development facilities are located in Trollhättan, Sweden, with about 700 employees.
NEVS has growing operations in China. The company's first plant in Tianjin was finalised in 2018. During 2019, a new plant in Shanghai is under construction, scheduled for production of EV cars next year. A third plant in China, Guangzhou, is also under construction. NEVS was the first joint venture company with investors from outside China that was granted a New Energy Passenger Vehicle Project investment approval by the Chinese government. By the end of 2018, NEVS was granted the certificate to manufacture and sell cars from the plant in Tianjin.
At the end of January 2019, it was announced that NEVS had acquired a 20% stake in the Swedish super sport car manufacturer Koenigsegg. The two companies have also formed a joint venture (where NEVS has 65%) with the aim to develop and produce super sport cars for a new customer segment.
For more information, please visit www.nevs.com
About Evergrande
China Evergrande Group is a large diversified group listed on the Hong Kong Stock Exchange with businesses based in real estate for people's well-being, supported by cultural tourism and health services, and led by new-energy vehicles. Currently, the total assets of Evergrande Group has reached RMB 1.88 trillion, annual sales volume exceeds RMB 600 billion, with accumulated taxation of more than RMB 230 billion. It has donated more than RMB 12 billion to charity, and creates more than 2.6 million jobs each year. It has 140,000 staff, and ranks 230th in the Fortune Global 500 list.
For more information, please visit www.evergrande.com/en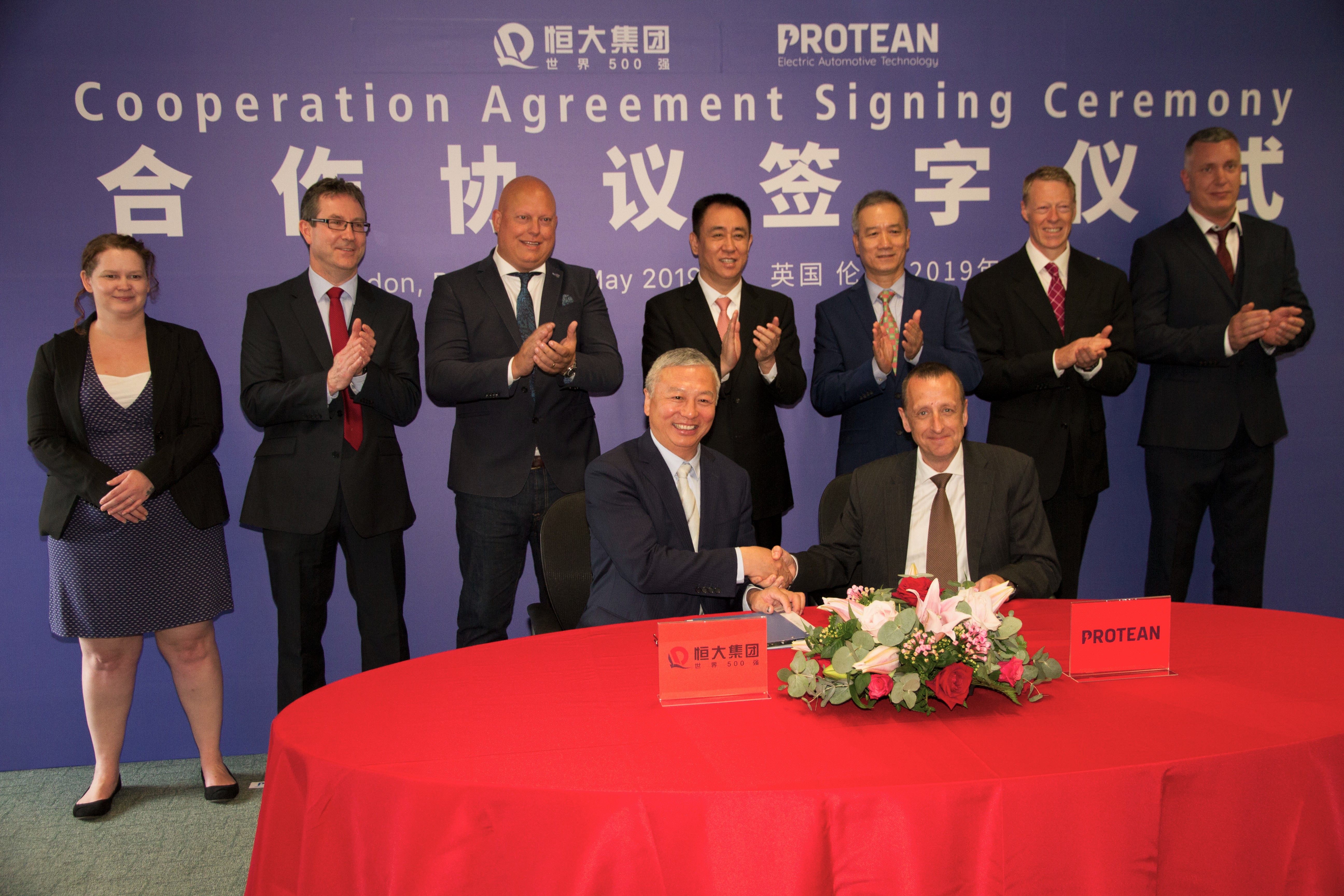 Protean at US and Europe Events in May
Protean Electric selected for Intelligent Mobility Accelerator programme